Tha DVD
NEW DVDS BEING MADE NOW - ONLINE ORDERING COMING BACK SOON!
That's right folks - you can now order your very own copy of the super-special, jam-packed, tons-o'-extra-included MUFFIN MAN dvd for only $9.95 (+ shipping)!
Included with your purchase are the following goodies:
3 audio commentaries (4? who said that? is there an extra one hidden somewhere?)
making-of featurette (30 minutes)
audion footage (8 minutes)
introduction by Lloyd Kaufman, President of Troma Studios & Creator of the Toxic Avenger
trailer for ROTTEN SHAOLIN ZOMBIES
photo gallery
DVD-ROM features: MP3s, screenplay in PDF format
Easter eggs!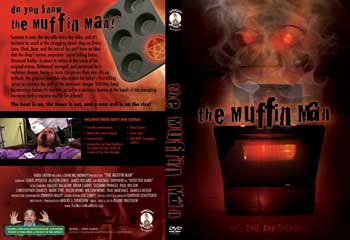 Click to view larger inlay